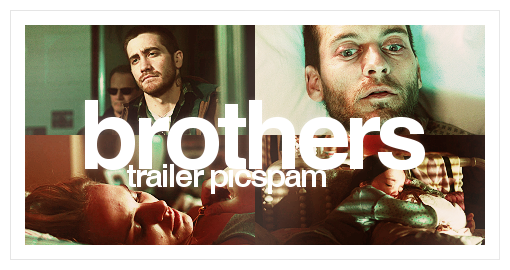 made for the current
picspammy challenge (#11). first off, i'm extremely excited about this movie, i don't even care that people hate the trailer, i've watched it over and over again and i love it. well, natalie portman, jake gyllenhaal, and tobey maguire are in it, so no wonder it's playing on repeat. no, but in all seriousness, i think the film looks outstanding. these three are sure to pull off wonderful performances. i hear it's getting early oscar buzz! also, let's not forget about the two daughters. they're just precious and i think their acting is spot on. and jim sheridan, the director, is sure to have captured beautiful footage...the movie already looks sooo pretty!

if you're not interested in the movie, just be sure to give the gorgeous poster a look (link BELOW) because that alone may change your mind (natalie kissing tobey's bare back...SO SEXY). anyway, mark your calendars: "brothers" hits theaters DECEMBER 4TH, 2009. &hearts





grace: sam's dead.
tommy: what, what are you talking about?





tommy: you know your dad saved me, in that water, when we were little kids. you know you're like your dad.





doctor: can you tell me your name?
sam: i want to talk to my wife.
-------
grace: talk to me. what happened?





sam: thanks for taking care of them, i didn't expect that.
-------
sam: did you sleep with her?





sam: what happened with you and tommy?
grace: i thought you were dead.






sam: stop it.
isabelle: you're just mad 'cause mom would rather sleep with uncle tommy than you!
grace: isabelle!





sam: do you know what i did to get back to you? YOU KNOW WHAT I DID!
-------
sam: you gonna shoot me?
grace: SAM!
tommy: stop, stop, stop!
sam: shoot me! SHOOT ME!





links out:
hq trailer.
beautiful poster.